Baked Squid
Corn, egg, gluten, lactose, milk, nut, peanut, sesame, soya & wheat free
I found cleaned squid tubes in the frozen section of my local supermarket. If you have the tentacles as well, you could add them to the stuffing mix. This serves 2 as a hearty main course or 4 as a starter.
Serves 2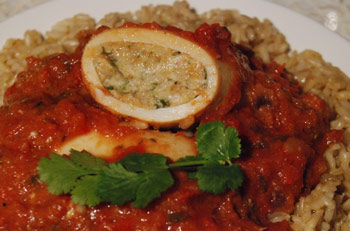 Ingredients
225g raw prawns
handful of fresh parsley
4 crushed gluten free oatcakes / crackers
Squeeze of lemon juice
4 cleaned squid tubes
1 red pepper, roughly chopped
1 can of tomatoes
1 red onion, roughly chopped
handful of parsley
salt and pepper
Method
Preheat the oven to 180°C / 350°F / gas 4.
Put the prawns, parsley, oatcakes and lemon juice into a food processor.
Whizz until just chopped and blended.
Stuff the mixture into the squid, not right to the top as the squid will shrink during cooking.
Place in an oven proof dish.
Whizz the pepper, tomatoes, onion and parsley in the food processor.
Season with salt and pepper.
Pour the sauce over the squid.
Bake for 35 minutes.
We have over 800 delicious freefrom recipes on this site all of which are gluten free, most of which are dairy and lactose free and many of which are free of most other allergens. Please go to the following sections to try them out: