Michelle's Freefrom Herring in Teff Flour
Corn, egg, gluten, lactose, milk, nut, peanut, sesame, soya & wheat free
A very nice summery sort of dish..... If you cannot find teff flour locally, you could look in our directories (just put 'teff' into the search box) – or use buckwheat whch would give a similarlary nutty texture.
Serves 4
Ingredients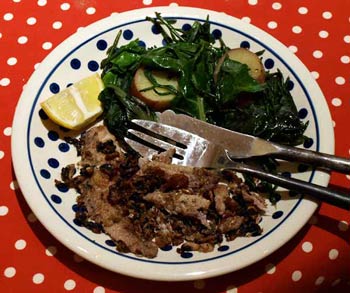 1 level tbsp coconut oil
2 tbps olive oil

4–6 large cloves garlic, peeled and thinly sliced

8 buttom mushrooms, chopped small

6 largish herring, gutted, boned and laid flat

2 tsbp teff flour, well seasoned
8–10 new potatoes, depending on size, scrubbed and sliced

2 handfuls of fresh samphire, if you can get it, trimmed

4 generous handfuls of fresh spinach, stems removed if it is mature and torn in to smallish pieces

extra olive oil
sea salt and freshly ground black pepper
Method
Heat whichever oil you are using in a wide pan and gently fry the sliced garlic for several minutes without browning.
Add the mushrooms and continue to cook for a minute or two.

Meanwhile, coat the herrings generously in the seasoned teff flour.

Add them to the garlic and mushroom mixture and fry then gently on each side for two minutes or until cooked through.
The garlic and mushrooms should continue to cook round the herring becoming partially coated in the teff flour and slightly crispy.
Meanwhile, steam the potatoes until just cooked, then add the samphire, if you can get it, and the spinach.
Steam for another few minutes until the spinach is well wilted.
Transfer the herring fillets to plates and serve with the vegetables, the latter drizzled with a little extra olive oil and seasoned with sea salt and freshly ground black pepper.
We have over 800 delicious freefrom recipes on this site all of which are gluten free, most of which are dairy and lactose free and many of which are free of most other allergens. Please go to the following sections to try them out: