Freefrom Herby Polenta Cod
Gluten, lactose, milk, nightshade, nut, peanut, sesame, soya & wheat free
You can use any white fish for this dish. You can also change the herbs to suit your taste and what you happen to have in the cupboard.
Serves 2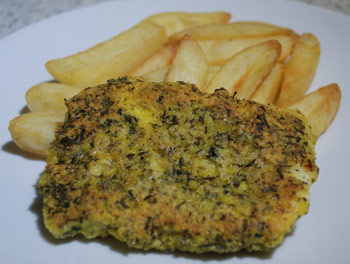 Ingredients
2 cod fillets
3 tbsp polenta
1 tsp garlic powder
1 tsp dried oregano
1 tsp dried basil
½ tsp dried thyme
½ tsp dried rosemary, ground (I used a pestle & mortar)
1 egg
1 tbsp olive oil
Method
Mix the polenta and the herbs together thoroughly in a shallow dish.
Beat the egg in a shallow dish.
Dip each piece of fish in the egg so that it is completely covered.
Dip each piece of eggy fish into the herbed polenta, one side at a time and patting gently to stick as much as possible to the cod.
Cover and chill a little to set the coating.
Heat the olive oil in a frying pan and cook the fish for 3-4 minutes on either side.
Check that the fish is cooked right through (it will be solid white, not pinky and opaque).
Serve immediately.
Serve and enjoy...
We have over 800 delicious freefrom recipes on this site all of which are gluten free, most of which are dairy and lactose free and many of which are free of most other allergens. Please go to the following sections to try them out: