Freefrom Fish Soup
Corn, egg, gluten, lactose, milk, nut, peanut, sesame, soya & wheat free
A very easy, but impressive soup but, for it have the best flavour, you must give time to cook the vegetables and anchovies really slowly. It tastes better if you can cook it up to the point when you would add the fish ahead of time. When you are ready to serve it, reheat the soup gently and add the fish. This allows you to get the full flavour of the slow cooked vegetables while still retaining the fresh flavour of recently cooked fish.
Serves 4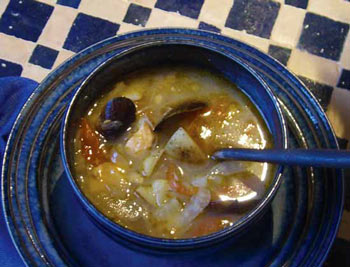 Ingredients
2 tbsp olive oil
2 medium onions, peeled and sliced finely

1 large head fennel, trimmed and sliced finely
25g / 1 oz tinned (canned) anchovies with their oil, chopped small

8 small tomatoes, quartered

2 large potatoes, scrubbed and diced

1.5 litres / 51fl oz of gluten/wheat free fish or vegetable stock

150ml / 5fl oz dry white wine

400g / 14 oz mixed fish of your choice - we used ⅓ haddock, ⅓ salmon and ⅓ mussels but you could also include haddock, tuna, shrimps, prawns, clams, or whatever you fancy

sea salt and freshly ground black pepper
Method
Heat the oil in a large heavy pan and add the onion, fennel and anchovies.
Cook very slowly for 15 minutes.
Add the tomatoes and continue to cook very slowly until the onions are very soft but scarcely coloured - this could take another 15-20 minutes.

Add the stock, wine and potatoes, bring to the boil and simmer gently for a further 20 minutes or until the potatoes are cooked.

You can set the soup aside at this point if you wish.

To serve, reheat the soup and prepare the fish cutting any firm fleshed fish into bite-size cubes. (Do not cut them too small or they will disintegrate.)

When the soup has reached the boil add the fish and cook for 3-4 minutes very gently (do not boil or the fish will fall apart), adjust the seasoning to taste and serve at once.

Serves 4 - per portion
364cals - 41g protein
14g total fat - 2.5g sat / 5.8g mono / 2g poly
25g carbohydrate of which 6g sugar
3.5g fibre - 1204mg sodium / 2.6g salt
Good Source of: Vitamin B6, B12 & selenium
We have over 800 delicious freefrom recipes on this site all of which are gluten free, most of which are dairy and lactose free and many of which are free of most other allergens. Please go to the following sections to try them out: