Loretta's Freefrom Caribbean Codfish
Corn, egg, gluten, lactose, milk, nut, peanut, sesame, soya & wheat free
Whether you are travelling in the Caribbean or not, if you can get some saltfish, this will certainly make for a great West Indian dinner. Salt cod is a dehydrated fish, which is common in the Caribbean, and is preserved with salt so easily stored without refrigeration. However, salt cod is also quite widely eaten in northern Europe, Spain and Portugal so, if you do not have a Caribbean store locally, it should not be too difficult to find.
Serves 6
Ingredients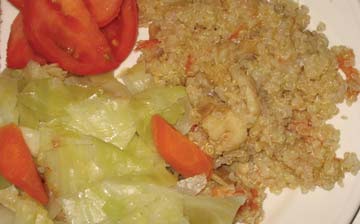 500g / 1lb 2oz salt cod or saltfish

3 tbsp olive oil

3 garlic cloves, peeled and crushed

1 onion, peeled and chopped

2 tomatoes, chopped

500g / 1lb 2oz rice or quinoa

1 tsp dried or 1 tbsp fresh coriander (cilantro)

approx 1 litre / 34fl oz water
Method
Soak the fish in enough water to cover for at least three hours.
Pour out water and rinse the fish one additional time.

In large sautépan or saucepan, sauté onions, tomatoes and garlic in oil until onions are soft – this should take about five minutes.

Add the fish, cut up into 2.5cm (1") pieces and cook for 5 minutes more.

Add rice or quinoa, dried coriander (cilantro) and water.
Stir gently so that the contents are evenly distributed.

Reduce heat to low and cover the pan.

Cook for about 20 minutes or until liquid is absorbed – add extra if you need to.

Adjust the seasoning to taste and, if you are using fresh coriander (cilantro), chop it and stir it in before serving.
Serves 6 – per portion
484cals – 35g protein
7g total fat – 0.8g sat / 4g mono / 0.5g poly
69g carbohydrate of which 2g sugar
0.6g fibre – 786mg sodium / 2g salt
139mg calcium
Good Source of: Vitamin B12
We have over 800 delicious freefrom recipes on this site all of which are gluten free, most of which are dairy and lactose free and many of which are free of most other allergens. Please go to the following sections to try them out: