Michelle's Freefrom Beetroot with Cavolo Nero and Smoked Trout
Corn, egg, gluten, nightshade, nut, peanut, sesame & wheat free; can be lactose, milk & soya free
This really does not class as a recipe – but might serve as inspiration when looking to use up those bits lurking in the back of your fridge! So, suggestions, rather than instructions!
Serves 2–3 depending on appetite
Ingredients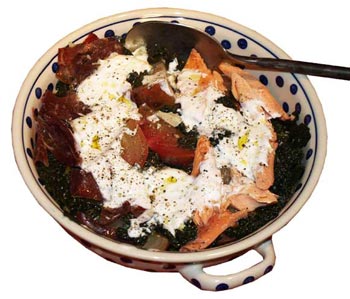 2 or 3 beetroots – I used Chioggia stripey beets but you could use ordinary ones.

2 large handfuls – approx. 300g – cavolo nero with the hard stems removed

a smoked trout or 8–10 slices of bresaola or Parma ham (I used both trout and bresaola as that was what was lurking in my fridge…)

juice 1 lemon

fresh ground salt and black pepper

3–4 tablespoons live fresh plain yogurt or kefir – or soya yogurt

olive oil
Method
Halve or quarter the beetroots and steam till almost cooked.

Chop the cavolo nero and add to the beet steamer.
Cook for a further 5–8 minute or until cooked.

Tip into a flattish serving dish and mix around so the beetroot pieces are well distributed.

Scatter the trout and/or ham slices over the the top, and season with salt and pepper and the lemon juice.

Spoon over the yoghurt, drizzle with olive oil and grind over some more black pepper before serving.
If you happen to have any of that wonderful middle eastern spice mix, zatar, sprinkle that over the yoghurt and oil rather than the extra black pepper.
We have over 800 delicious freefrom recipes on this site all of which are gluten free, most of which are dairy and lactose free and many of which are free of most other allergens. Please go to the following sections to try them out: