Michelle's Freefrom Aubergine (Eggplant) and Sardine Salad
Corn, egg, gluten, lactose, milk, nut, peanut, sesame, soya & wheat free
If you can find fresh sardines, this is a great way to serve them – but it actually still works very well with a humble tinned sardine – just as much omega 3!
Serves 6
Ingredients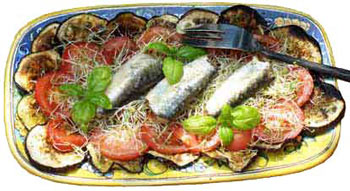 2 medium aubergines or egg plants, thinly sliced

sea salt and freshly ground black pepper

olive oil

3–4 beef tomatoes, skinned

pinch brown sugar

handful of alfalfa sprouted seeds

juice 1–2 lemons

6 fresh sardines or 2 tins sardines in olive oil

fresh basil
Method
Lay the aubergine (eggplant) slices out on foil, sprinkle lightly with sea salt and freshly ground black pepper and dribble with olive oil.

Grill (broil) under a hot grill (broiler) until tanned then turn the slices over and repeat the process.

Continue until all the slices are cooked.
Then lay them out over a serving dish.

Slice the tomatoes thinly and lay over the aubergine/egg plants.

Sprinkle over the sugar.

Spread the alfalfa sprouts over the tomatoes then grate over some salt and pepper, dribble over the lemon juice and about 2 tablespoons of olive oil.

If you are using fresh sardines, grill on either side till just cooked; if tinned remove from the tin.
In either case lay them over the sprouts and decorate with the basil leaves.

Serves 6 – per portion
135Calories
11.5g Protein
9g Fat (2g Sat fat, 4g mono, 1.9g poly)
3g Carbohydrate of which 3g Sugar
2g Fibre, 66g Sodium, 0.16g salt
54mg Calcium
Good Source – Vitamin B1 , B12
We have over 800 delicious freefrom recipes on this site all of which are gluten free, most of which are dairy and lactose free and many of which are free of most other allergens. Please go to the following sections to try them out: