Michelle's Freefrom 15 Minute Fish Dinner!
Corn, egg, gluten, lactose, milk, nut, peanut, sesame, soya & wheat free
You will need a steamer for this recipe. It genuinely does take 15 minutes from start to finish - and tastes delicious!
Serves 2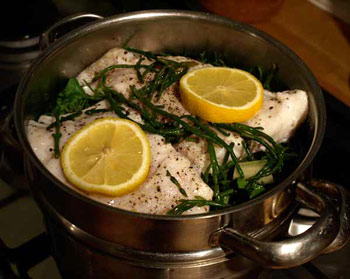 Ingredients
4–6 new potatoes, depending on hunger levels, sliced thinly

sea salt and freshly ground black pepper

1–2 handful of mange tout or skinny French beans
2 large handfuls of chard, spinach or 6 leave of Cos lettuce, all chopped roughly

2 handfuls of samphire (this is not strictly necessary but did add delicious flavour)

3 fillets or steaks of cod, haddock, pollock, salmon or whatever other fish you fancy, fresh or frozen

2 slices of lemon

a little olive oil
Method
Layer the potatoes in the bottom of the steamer and season generously.
Steam briskly for five minutes or until they are nearly cooked.

Add the mange tout or beans, then the leaves and the samphire if you are using it.

Lay the fish fillets on top of the leaves, season again generously and lay the lemon slices on top of the fish.

Replace the lid on the steamer and continue to steam briskly for a further 5–7 minutes – depending on the thickness of the fish and whether it was fresh or frozen.

Scoop out of the steamer onto a plate, drizzle a little olive oil over the vegetables round the fish – and serve!
We have over 800 delicious freefrom recipes on this site all of which are gluten free, most of which are dairy and lactose free and many of which are free of most other allergens. Please go to the following sections to try them out: