Michelle's Freefrom Christmas Upside Down Cake
Gluten, nightshade, nut, peanut, sesame, soya & wheat free; can be lactose & milk free
For those who want a hint of the Christmas spirit but who cannot do with Christmas pud.! It is delicious warm out of the oven – but also excellent cold as a cake. You can serve it with whatever cream, yogurt or ice cream you can eat, but we felt that they would rather mask its delicate – and yummy – flavours.
Serves 6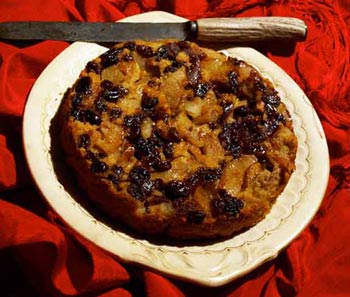 Ingredients
2 medium ripe eating apples, cored, peeled and sliced
40g / 1½ oz raisins
2 soft dates, stoned and chopped
½ tsp ground ginger
½ tsp ground cinnamon
pinch of cloves
¼ ground fresh nutmeg or ¼ tsp ready ground
rind and juice 1 lemon
1 generous tbsp brandy
150g / 6oz butter, goat's butter or dairy-free spread
150g / 6oz pale muscovado sugar
50g / 2 oz gram flour
50g / 2 oz rice flour
50g / 2 oz coarse polenta
½ tsp each ground ginger and cinnamon
1 level tsp gluten and wheat free baking powder
3 eggs
Method
Put the apple in a small bowl with the raisins, dates, spices, lemon rind, half the lemon juice and the brandy.
Stir well around until the fruit is well coated in the spices and the liquid then cover and leave to steep for 1–3 hours.
Heat the oven to 180C/350F/Gas mark 4.
Line a 20cm / 8 inch loose-bottomed cake tin with foil and oil lightly.
Spread the fruit mixture out over the bottom of the cake tin, flattening it out as much as possible.
Beat the butter or spread with the sugar in an electric mixer until light and creamy.
Sieve the three flours with the baking powder.
With a wooden spoon, beat the eggs into the butter and sugar mixture alternately with tablespoons of the flours then fold in the rest of the flour with the remaining lemon juice.
Spoon carefully into the tin and flatten out by banging the cake tin gently on the counter.
Bake for 35 minutes or until a skewer comes out clean.
Carefully turn out onto a serving dish and then, also carefully, peel off the foil.
Serves 6 - per portion
450 Calories
7g Protein
25g Fat (13g Sat fat, 6.8g mono, 1.3g poly)
52g Carbohydrate of which 35g Sugar
2g Fibre, 290mg Sodium, 0.7g salt
67mg Calcium
We have over 800 delicious freefrom recipes on this site all of which are gluten free, most of which are dairy and lactose free and many of which are free of most other allergens. Please go to the following sections to try them out: