Michelle's Freefrom White Chocolate Cheesecake
Corn, gluten, milk, nightshade, nut, peanut, sesame & wheat free; can be egg, lactose, soya & free
This recipe was inspired by the arrival of some Mortimer Chocolate company dairy-free white chocolate powder. What, we asked ourselves, could that be?..... Sugar, cocoa butter and natural vanilla, it turns out – and very delicious it is too. As are the four 'estate grown' dark chocolate powders that Mortimers also sell – from Ghana, West Africa (blended cocoa liquors from Ghana, Ivory Coast and Nigerian), Ecuador and a South American blend. Do check them out. But meanwhile....
Serves 4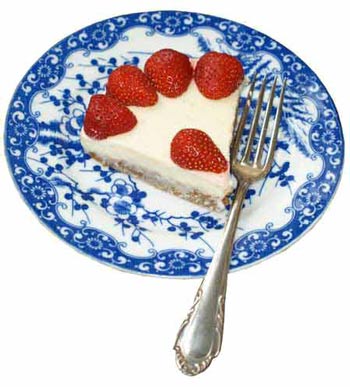 Ingredients
100g / 4 oz gluten/wheat-free digestive biscuits or Graham crackers
50g / 2 oz goat butter or 1 small egg white
(most dairy-free spreads do not set solidly enough to hold the biscuits crumbs together)
160g / 6oz plain soya or goat cream cheese
160ml / 5/8 cup soya, oat or or goat cream
120g / 5oz Mortimer's White chocolate powder
(alternatively, if you can tolerate goats' milk, you could use the Billy Goat Stuff white chocolate buttons)
strawberries or other fresh fruit to decorate
Method
Crumb the biscuits in a food processor.
Either melt the butter and mix it into the crumbs, or mix in the egg white.
Spread the crumbs out in the bottom of a loose bottomed flan tin or a flan dish and flatten out.
If you are using butter, put the dish into the fridge to chill.
If you are using the egg white, bake the dish for 20 minutes in a low oven (170C/325F/Gas Mark 3) to set the egg white.
Meanwhile, beat the cream cheese with the cream until smooth.
In a bowl over hot water, gently melt the white chocolate powder until it is liquid then add it to the creamed mixture.
Spoon this into the flan dish and chill for half an hour until it is nearly set.
Arrange the fruit on top and return to the fridge to set.

For whole cheesecake
2414 Calories
22g Protein
195g Fat (52g Sat fat, 7g mono, 109g poly)
148g Carbohydrate of which 90g Sugar
2g Fibre, 1515g Sodium, 3.8g salt
582mg Calcium
We have over 800 delicious freefrom recipes on this site all of which are gluten free, most of which are dairy and lactose free and many of which are free of most other allergens. Please go to the following sections to try them out: