Michelle's Freefrom Creamy Strawberry Sorbet
Corn, egg, lactose, milk, nightshade, nut, peanut, sesame, soya & wheat free
To celebrate the first home-grown strawberries of the season.
Serves 4
Ingredients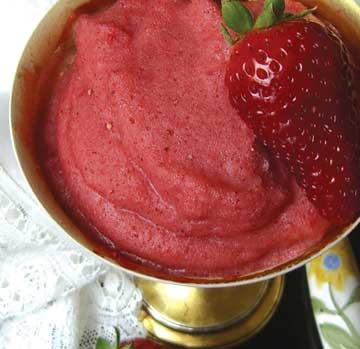 2 large ripe, bananas
500g / 1lb ripe strawberries plus 4 for decoration
350ml / 12fl oz oat milk
Method
Purée the bananas, strawberries and oat milk in a food processor.
Turn into an ice cream maker and churn freeze.
Remove from the freezer and place into the refrigerator at least half an hour before you want to serve the sorbet.
Spoon into individual serving dishes and decorate with fresh strawberries.
Serves 4 - per portion
140cals - 4.5g protein
4g total fat - 2g sat / 1g mono / 0.2g poly
42g carbohydrate of which 14g sugar
2g fibre - 46mg sodium / ).01g salt
Good Source of: Vitamin C
We have over 800 delicious freefrom recipes on this site all of which are gluten free, most of which are dairy and lactose free and many of which are free of most other allergens. Please go to the following sections to try them out: