Freefrom Strawberry Coconut Tart
Corn, egg, gluten, lactose, milk, nightshade, nut, peanut, sesame, soya & wheat free; can be corn & nut free
This was conceived as an all-coconut recipe but you may prefer to use your own favourite pastry gluten/dairy-free recipe - or even a ready made pastry... If you want to go for the full coconut experience: Coconut flour does not make good pastry on its own, but we found that the combination of coconut and ground almonds worked well. If you use the coconut oil as well the resulting pastry does have a distinct, though not unpleasant, flavour of coconut although the cream scarcely does.
See our Directories for suppliers of coconut oil, if you do not already have a favourite of your own.
Serves 6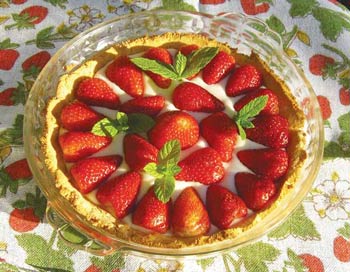 Ingredients
100g coconut flour
100g ground almonds - if you cannot eat nuts, use gram (chickpea) flour or polenta (cornmeal)
100g coconut butter (oil) or dairy-free spread such as PURE
1 level tsp pale muscovado (raw) sugar
1 egg
30g cornflour - if you cannot eat corn, use potato flour
300ml coconut milk
3 tbsp Cointreau or Grand Marnier
200-300g of whatever seasonal fresh fruit you wish to use
mint leaves to decorate (optional)
Method
Heat the oven to 170C/325F/Gas Mark 3.
Put the coconut flour, almonds, coconut butter and sugar in a food processor and whizz briefly to mix in the fat.
Add the egg and whizz briefly again.
Press the mixture out into the base and up the sides of a 20cm / 8" flan dish, getting it as even as you can.
Prick the base with a fork.
Bake for 25 minutes or until the paste is lightly tanned.
In a small pan gradually add the coconut milk to the cornflour or potato flour until you have a smooth paste then gradually add the rest of the milk.
Heat over a low flame, stirring all the time, until the cream thickens.
Cook for a minute or two, then remove from the heat and stir into the Cointreau. Cool.
Spoon the cream into the pastry base and smooth out.
Slice the fruit if necessary and arrange over the cream.
Decorate with mint leaves if desired and serve at room temperature.
Serves 6 - per portion
446cals - 9g protein
34g total fat - 17g sat / 10g mono / 2g poly
23g carbohydrate of which 6g sugar
3g fibre - 123mg sodium / 0.3g salt
57mg calcium
We have over 800 delicious freefrom recipes on this site all of which are gluten free, most of which are dairy and lactose free and many of which are free of most other allergens. Please go to the following sections to try them out: