Laura's Freefrom Strawberry and Chocolate Sundae
Corn, egg, lactose, milk, nightshade, peanut, sesame, soya & wheat free; can be gluten and nut free
Serves 1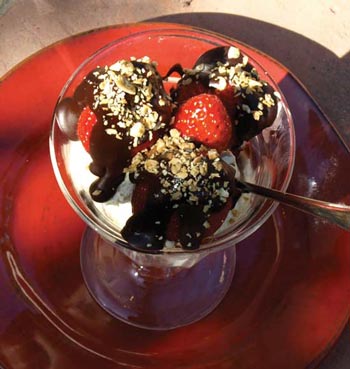 Ingredients
2–3 scoops dairy-free vanilla 'ice cream'
3–4 strawberries
25g dairy-free chocolate
1 tbsp Grand Marnier, Cointreau or brandy
1 tsp gluten and nut free crunchy granola – or chopped, toasted hazelnuts
Method
Scoop the ice cream into the bottom of a tall goblet or sundae glass and arrange the strawberries over the top.
Melt the chocolate over hot water or in a microwave for 40–60 seconds then carefully stir in the liqueur or brandy.
Spoon the chocolate over some of the strawberries, leaving a little red peeking out.
Sprinkle with the granola or nuts and serve at once.
We have over 800 delicious freefrom recipes on this site all of which are gluten free, most of which are dairy and lactose free and many of which are free of most other allergens. Please go to the following sections to try them out: