Michelle's Freefrom Rhubarb Meringue
Corn, gluten, lactose, milk, nightshade, nut, peanut, sesame, soya & wheat free
Although the tartness of the rhubarb is a particuarly good contrast to the sweetness of the meringue you could make this dessert with any other tart fruit.
Serves 6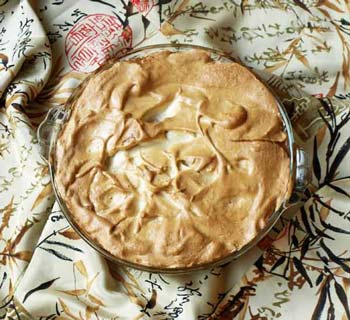 Ingredients
500g / 18 oz fresh rhubarb
1–2 tbsp agave syrup
100ml / 3floz water
2 kiwi fruit, peeled and sliced
2 large egg whites
50g / 2 oz caster or pale muscovado sugar
Method
Wipe, top and tail the rhubarb and cut biggish pieces.
Put in a smallish saucepan with the agave syrup and water.
Cook gently for 10–15 minutes or until the rhubarb is just cooked.
Put the kiwi slices in the bottom of a flan dish and cover with the rhubarb.
Heat the oven to 180C/350F/Gas mark 4.
Whisk the egg whites in a bowl till starting to stiffen.
Add the sugar gradually, continuing to whisk as you do so.
Whisk until it stands in stiff peaks then use a spatula to spread it over the fruit.
Bake for 40 minutes or until the meringue is well tanned and crisp on top.
Serve at once, alone or with whatever cream or ice cream you can tolerate.
If you do not eat the dessert at once it will still be very nice but the meringue will soften and become more like a pavlova.
Serves 4 – per portion:

88 Calories
3g Protein
0.3g Fat ( 0g Sat fat, trace g mono, trace g poly)
20g Carbohydrate of which 19g Sugar
3g Fibre, trace mg Sodium, trace g salt
128 mg Calcium
We have over 800 delicious freefrom recipes on this site all of which are gluten free, most of which are dairy and lactose free and many of which are free of most other allergens. Please go to the following sections to try them out: