Michelle's Freefrom Rhubarb Meringue
Corn, lactose, milk, nightshade, nut, peanut, sesame & wheat free; can be gluten & soya free
The idea of this dessert was to contrast the delicious tartness of the rhubarb with the sweetness of the meringue. And it does look pretty!
Serves 4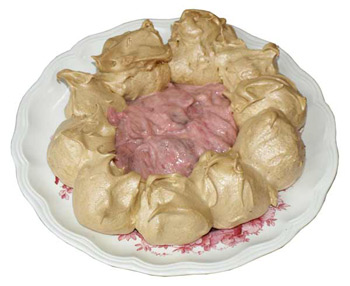 Ingredients
3 medium eggs, separated
150g / 6 oz light muscovado or caster sugar (depending on whether you want your meringues white or pale coffee coloured)
750g / 1½ lb fresh, cleaned rhubarb
100m / 3fl oz water
40–50g / 1½–2 oz light muscovado sugar
90ml / 3 floz oat or soya cream
Method
Heat the oven to 150C/300F/Gas Mark 2.
Beat the egg whites until they stand is sharp peaks.
Gradually beat in the sugar, beating hard between each addition, until the sugar is all in the and mixture is very stiff and shiny.
Using two spoons, put spiky blobs of meringue in a circle on a piece of foil allowing approximately 2 'blobs' per person. If you have some mixture over, which you probably will, just make a few extra meringues.
Bake for 1½ hours or until crisp and cooked.
Meanwhile, chop the cleaned rhubarb into 3cm / 1 inch pieces.
Melt the sugar in the water then add the rhubarb pieces.
Cover and cook over a very low heat, stirring very gently every now and then, for approximately 10 minutes then turn off the heat and leave the rhubarb to finish cooking on its own. You want the pieces to be soft but to avoid it totally disintegrating.
Strain the rhubarb thoroughly, reserving the juice to serve with the dessert.
When the rhubarb is ready, mix the cream thoroughly into the egg yolks then, in a smallish saucepan mix this mixture into the rhubarb and cook over a low heat until it thickens slightly – do not boil as you do not want the egg yolks to curdle.
When it has thickened taste and, if needed, add a little more sugar – but remember that the meringues will be very sweet and the idea is to contrast the sweet meringue with the tart rhubarb.
Allow to cool completely and chill.
When you ready to serve the dessert, move the meringue ring onto a serving dish then gently pour the rhubarb mixture into the middle and serve at once with the extra rhubarb juice.
We have over 800 delicious freefrom recipes on this site all of which are gluten free, most of which are dairy and lactose free and many of which are free of most other allergens. Please go to the following sections to try them out: