Freefrom Prune and Cranberry Jelly
Corn, egg, nightshade, nut, peanut, sesame & wheat free; can be gluten, lactose, milk & soya free
Serves 6
Ingredients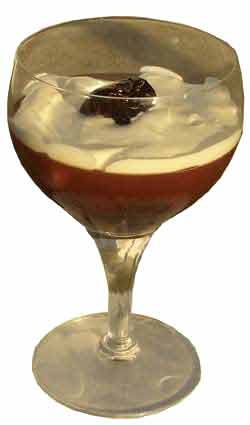 400ml / 13fl oz cranberry or cranberry and apple juice
10 cardamom pods (optional)
10g / ¼ oz (or 1 x 11g pack) gelatine
100ml / 3fl oz cherry brandy or creme de cassis
100g / 3½ oz very soft prunes
150ml / 5fl oz cow's, goat's, soya or oat cream
Method
Heat the cranberry juice with the cardamom pods till they just reach boiling point.
Take off the heat, cool for a minute or two then sprinkle in the gelatine and stir till it is quite dissolved.
Add the liqueur.
Chop all but 3 prunes into small pieces and put them in the bottom of 6 wine glasses.
Pour the cranberry mixture over the prunes and put in the fridge to chill.
Before serving whisk the cream lightly. The goat's, oat and soya cream will whip better if they are well chilled. A teaspoon of sugar will also help.
Spoon the cream over the top of each jelly and top with a halved prune.
Serves 6 - per portion
138cals - 1g protein
3.5g total fat - 2g sat / 1g mono / 0.5g poly
187 carbohydrate of which 16g sugar
1g fibre - 16mg sodium / 0.04g salt
We have over 800 delicious freefrom recipes on this site all of which are gluten free, most of which are dairy and lactose free and many of which are free of most other allergens. Please go to the following sections to try them out: