Michelle's Freefrom Pears Baked with Ginger
Corn, egg, gluten, lactose, milk, nightshade, peanut, sesame, soya & wheat free; can be nut free
The pears are delicious on their own but you can also serve them with whatever kind of ginger ice cream you can eat. We used the BoojaBooja Winjin Ginger – yummy!
Serves 6
Ingredients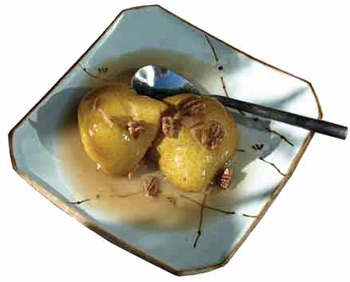 6 ripe pears, cored with an apple corer
small to medium knob of fresh ginger (depending how keen you are on ginger), peeled and cut in very thin slices
2 tbsp pecan nuts (or pine nuts if you are allergic to pecans)
2 tbsp raisins (optional)
approx 120ml / 4fl oz ginger wine
Method
Heat the oven to 180C/350F/Gas Mark 4.
Arrange the cored pears in an ovenproof baking dish.
Insert the ginger slithers mixed with the pecan, or pine nuts and raisins if using, down the central hole, sprinkling any extra around the pears.
Pour around the ginger wine – it should be about 2cm / 1" deep – then cover the pears with aluminium foil and bake for 30–40 minutes depending on how ripe the pears were.
Serve whole or halved, as in the picture, with the extra juice and any spare nuts or fruit.
Serves 6 – per portion
127cals – 1g protein
4g total fat – 0.5g sat / 2g mono / 1g poly
20g carbohydrate of which 20g sugar
3.5g fibre – trace sodium / trace salt
25mg calcium
We have over 800 delicious freefrom recipes on this site all of which are gluten free, most of which are dairy and lactose free and many of which are free of most other allergens. Please go to the following sections to try them out: