Michelle's Freefrom Pear and Chocolate Upside Down Cake
Corn, gluten, lactose, milk, nightshade, nut, peanut, sesame, soya & wheat free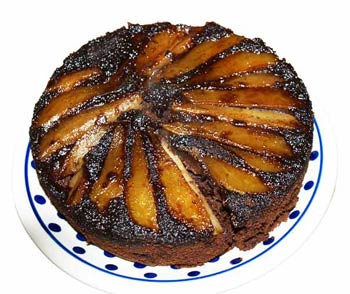 Serves 6
Ingredients
200g PURE, dairy-free spread or coconut oil
180g dark muscovado sugar
4 tbsp cocoa powder
4 tbsp boiling water
50g dark dairy-free chocolate, chopped small
4 eggs
200g self-raising gluten-free flour or 200g plain gluten-free flour with 1 heaped tsp of gluten and wheat-free baking powder
2 tbsp of whatever milk you can tolerate (I used almond milk)
3 tsbp dark muscovado sugar
2–3 large pears, peeled, cored and sliced lengthways
Method
Heat the oven to 180C/350F/Gas Mark 4.
Beat the spread or coconut oil with the sugar until light and creamy.
Add the boiling water to the cocoa powder and add it to the mixture along with the chocolate.
Add the eggs, one by one, each with a tablespoon of flour, mixing well with a wooden spoon, then add the milk.
Spread the extra muscovado sugar over the bottom of a loose bottomed 20cm / 8 inch cake tin (or an ordinary cake tin lined with foil or baking paper if you do not have a loose bottomed one.)
Arrange the pear slices over the sugar in whatever pattern you like.
Spoon over the cake mix, flatten out and bake for 35 minutes.
Turn out onto a plate and serve at once, by itself or with whatever cream, yogurt or ice cream that you can tolerate.
We have over 800 delicious freefrom recipes on this site all of which are gluten free, most of which are dairy and lactose free and many of which are free of most other allergens. Please go to the following sections to try them out: