Michelle's Freefrom Peaches Flambé
Corn, egg, gluten, lactose, milk, nightshade, nut, peanut, sesame, soya & wheat free
To get the full flavour of the rather delicate juices you may prefer not to cover it with cream or icecream.
Serves 6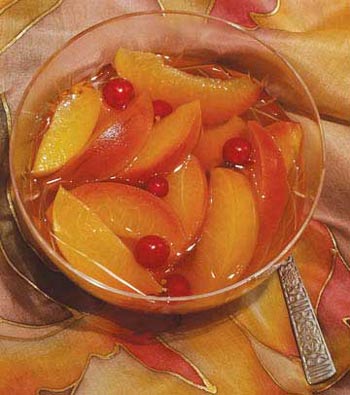 Ingredients
6 large ripe peaches
400ml / 13 fl oz water
2 tbsp agave syrup
1 large soup ladle of brandy
handful of redcurrants
whatever cream, yogurt or ice cream you can eat
Method
Carefully cut the peaches into wedges and put into a saucepan.
Add the water and agave syrup and bring gently to the simmer.
Depending on how ripe the peaches are, simmer gently, covered, for 3–8 minutes or until they are just cooked.
Transfer to serving bowl and sprinkle over the redcurrants.
When you are ready to serve it, heat the brandy gently in the soup ladle.
Light the brandy and immediately pour over the peaches and serve.
Serves 6 – per portion
65cals – 1g protein
0g total fat – 0g sat / 0g mono / 0g poly
13g carbohydrate of which 13g sugar
1.8g fibre – trace sodium / trace salt
11mg calcium
We have over 800 delicious freefrom recipes on this site all of which are gluten free, most of which are dairy and lactose free and many of which are free of most other allergens. Please go to the following sections to try them out: