Michelle's Freefrom Warm Mocha Cake with Prunes and Pecans
Corn, gluten, lactose, milk, nightshade, peanut, sesame, soya & wheat free
Very dark and very evil – and very yummy….
Serves 8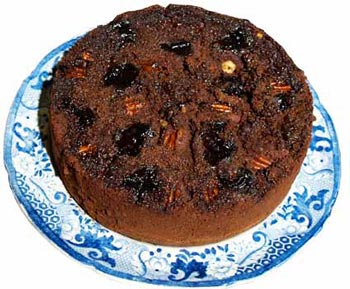 Ingredients
approx 50g /2 oz dark molasses sugar

8–10 soft prunes – prunes d'Agen are perfect
15–20 pecan nuts
225g /8 oz dairy-free dark chocolate
(70–85% cocoa solids, depending on how bitter you like your chocolate)
a double expresso cupful / 4 large tbsp hot strong black coffee
6 eggs
200g / 7oz pale muscovado sugar
30g / 1¼ oz chopped hazelnuts
Method
Heat the oven to 180C/350F/Gas mark 4.
Line a 20cm/8inch cake tin, preferably with a removable bottom, with lightly greased greaseproof paper or baking parchment.
Spread the dark molasses sugar over the base of the tin then arrange the prunes and pecans in whatever pattern you like, remembering that they will come out upside down.
Mel the chocolate in a microwave or in a bowl over hot water, and, when it is melted, stir in the coffee.
Meanwhile, separate the eggs and beat the egg yolks with the pale muscovado sugar until light and pale.
Mix the chocolate and coffee into the egg and sugar mixtuyre with the hazelnuts.
Whisk the egg whites until they hold they shape in soft peaks, then fold into the chocolate mixture.
Spoon into the cake tin, taking cake not to disturb your pattern, then bake for 40 minutes until it is just cooked but still almost running in the middle.
Remove from the oven and carefully decant the cake onto a plate then gently peel off the greaseproof paper leaving your prunes and pecans in place.

Serve warm, on its own or with whatever cream or 'ice cream' you can tolerate – we served it with BoojaBooja ginger…..
Serves 8
Per portion:
388 Calories
8g Protein
17g Fat (6.5g Sat fat, 8g mono, 1.5g poly)
54g Carbohydrate of which 51g Sugar
2g Fibre, 77mg Sodium, 0.19g salt
64mg Calcium
We have over 800 delicious freefrom recipes on this site all of which are gluten free, most of which are dairy and lactose free and many of which are free of most other allergens. Please go to the following sections to try them out: