Michelle's Freefrom Meringue Baked Apples or Baked Apples with Chocolate Sauce
Corn, gluten, lactose, milk, nightshade, peanut, sesame, soya & wheat free; can be egg and nut free
Thumbing through my Constance Spry cookbook looking for traditional apple recipes I came across this rather strange recipe combination. Having made an adapted version of the original I rather wondered how they all came together in one recipe and would suggest that you served the baked apples with chocolate sauce for one meal and served the meringued baked apples for another one with, possibly, some up market vanilla or ginger 'ice cream' – the Booja Booja Winjin ginger would be wonderful, if pricey.
Serves 6
Ingredients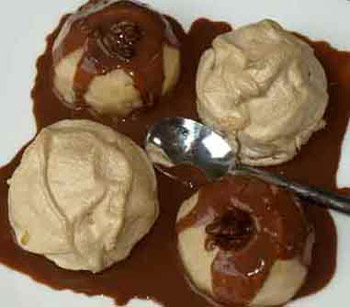 6 small cooking apples
half a lemon
a handful of raisins or sultanas (golden raisins)
a handful of pecan/walnuts or
pumpkin seeds/pine nuts
100ml / 3½ fl oz water or ginger wine
For the chocolate sauce
1 heaped tsp cornflour (cornstarch)
180ml / 6fl oz goat, sheep, soya, oat, coconut or nut 'milk'
50g / 2 oz dark dairy-free (bittersweet) chocolate
For the meringue
1 large egg white
60g / 2½ oz light muscovado (raw) sugar
Method
Heat the oven to 180C/350F/Gas mark 4.
Core and peel the apples and rub them with the cut lemon flesh to prevent them browning.
Carefully stuff them with whichever combination of dried fruit and nuts or seeds you prefer or can eat and lay them in a flat, ovenproof dish.
Pour around the water or ginger wine, cover and bake for 45 minutes.
The apples should be soft but keeping their shape.
Chocolate sauce

To make the chocolate sauce, put the cornflour (cornstarch) in a small pan and carefully stir in the milk until it is smooth.
Heat gently, stirring continually, until the sauce thickens.
Break up the chocolate and add it to the sauce.
Remove from the heat and continue to stir until the chocolate is all melted.
Remove the apples from the oven and transfer very carefully to a serving dish.
Add the cooking juices to the chocolate sauce, stir well and then pour over and around the apples. They can be served warm or cold.
Meringue
To make the meringue, heat the oven to 150C/300F/gas mark 3.
Beat the egg white in a bowl. As it starts to thicken gradually add the sugar and keep beating until it is thick, shiny and stands in peaks.
With a slice carefully remove the apples from the cooking dish and lay on a clean oven proof tray making sure that they keep their shape.
With a spatula, carefully spread a thin layer of meringue over each of the apples.
You can use this to 'patch' them back together if they are trying to disintegrate on you.
Transfer the baking tray to the oven and cook gently for 45 minutes.
Meanwhile, reserve the cooking juices to serve with the meringued apples.
To serve, remove from the oven and allow to cool slightly then very carefully transfer from the baking tray to individual serving plates and serve with the cooking juices and, if you fancy it, whatever kind of ice cream you can eat.
Serves 6 – per portion – with chocolate sauce
196 Calories
2.5g Protein
6.5g Fat (2.5g Sat fat, 3g mono, 1g poly)
33g Carbohydrate of which 32g Sugar
4g Fibre, 26mg Sodium, Trace g salt
48mg Calcium
Serves 6 – per portion – 'meringued'
Calories 175Kcals
2g Protein
3g Fat (0.2g Sat fat, 1.8g mono, 1g poly)
37g Carbohydrate of which 35g Sugar
4g Fibre, 19mg Sodium, Trace g salt
14mg Calcium
We have over 800 delicious freefrom recipes on this site all of which are gluten free, most of which are dairy and lactose free and many of which are free of most other allergens. Please go to the following sections to try them out: