Maria's Freefrom Date and Chocolate Bonbons
Corn, egg, gluten, lactose, milk, nightshade, peanut, sesame, soya & wheat free; can be nut free
These are so easy to make – and so yummy! Maria makes them with almonds which she crushes in a pestle and mortar to get a nice crunchy texture. I substituted pine nuts (for those who are nut allergic) and was lazy so threw them into the food processor for a minute with the dates – my excuse being that, as pine nuts are much softer than almonds, they would have mushed to pulp with a pestle a mortar. But either way is delicious.
Makes 8 reasonable size bonbons or 12 mini ones
Ingredients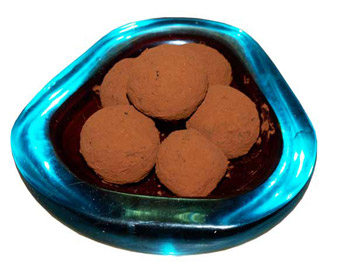 6 organic medjool dates
½ small tsp sea salt
2 heaped tbsp of either whole blanched almonds or pine nuts
Good quality dark cocoa or chocolate powder
(Maria used Green and Black's but any good quality powder will do. If you use cocoa as opposed to chocolate powder, which is usually sweetened, you will get a slightly bitterer covering which contrasts well with the sweetness of the dates.)
Method
Stone the dates and cut them into quarters then mush in the small bowl of a food processor with the salt.
If you are using the almonds, pound them in a pestle in mortar until the pieces are quite small then whizz briefly into the dates.
If you are using the pine nuts, add them to the dates and whiz briefly until they are broken up but not pulverised.
Remove from the bowl and roll the mixture into small balls then roll in the chocolate powder.
We have over 800 delicious freefrom recipes on this site all of which are gluten free, most of which are dairy and lactose free and many of which are free of most other allergens. Please go to the following sections to try them out: