Baked Orange Cheesecake
Gluten, lactose, milk, nightshade, nut, peanut, sesame & wheat free
Serves 8
Ingredients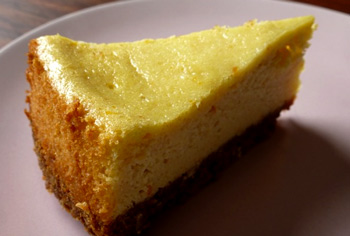 160g gluten free Hobnobs
60g dairy free spread, melted
340g dairy free cream cheese alternative
zest of 2 oranges
Juice of ½ orange
100g caster sugar
2 eggs, separated
2 tbsp cornflour
Method
Grease and line the base of a 20cm loose bottom cake tin.
Preheat the oven to 180°C / Gas 4.
Put the biscuits in a bag or large bowl and crush to a fine crumb with a rolling pin.
Mix the crushed biscuits and melted spread together and then press into the base of the tin.
In a large bowl, gently beat the cream cheese until it is smooth.
Then add the orange zest, orange juice, sugar and egg yolks.
Stir until smooth.
In another bowl, whisk the egg whites until they form stiff peaks.
Gently fold into the cheese mixture with a metal spoon.
Once the mix is completetly blended, spread over the top of the biscuit base.
Bake for 35 minutes and then leave the cheesecake in the oven.
Turn the oven off and open the door a little.
Allow the cheesecake to cool slowly in the oven. This will help to stop large cracks appearing as it cools.
Once it has cooled, remove it from the oven and take it out of the tin.
Chill it until you are ready to serve.
Decorate with fresh fruit if you like, dust it with icing sugar or just serve as it is.
We have over 800 delicious freefrom recipes on this site all of which are gluten free, most of which are dairy and lactose free and many of which are free of most other allergens. Please go to the following sections to try them out: