Chocolate Top Plum and Apple Pudding
Corn, egg, gluten, lactose, milk, nightshade, peanut, sesame, soya & wheat free
The top of this pudding is a cross between a brownie and a cobbler - crunchie on the outside and squishy on the inside.
Serves 4
Ingredients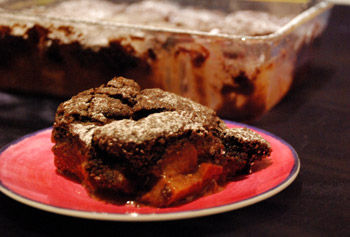 6 plums

4 apples

juice of ½ orange

100g dairy free vegan spread

50g ground almonds

30g gluten free plain flour

20g cocoa powder

1 tsp gluten free baking powder

60g dairy free chocolate chips (optional)
Method
Preheat the oven to 190°C / Gas mark 5.

Chop the plums into cubes and place in a saucepan.

Peel and chop the apples into cubes and add to the pan.

Heat gently to soften with the orange juice.

Meanwhile in a large bowl beat together the spread, almonds, flour and cocoa.

Once the mixture is smooth, stir in the choc chips, if using.

Pour the fruit into a small oven proof dish.

Place small mounds of the chocolate mix over as much of the top as you can cover.

Bake for 30 minutes.
We have over 800 delicious freefrom recipes on this site all of which are gluten free, most of which are dairy and lactose free and many of which are free of most other allergens. Please go to the following sections to try them out: