Egg Free Chocolate Mousse with Cherries
Corn, egg, gluten, lactose, milk, nightshade, nut, peanut, sesame & wheat free
The structure of this mousse comes from the liquid in a can of chick peas. Known as aquafaba, it has many of the qualities of egg whites when whisked. It even has it's own Facebook group to share the results of experimenting with it! I used milk chocolate equivalent but you can use dark chocolate and adjust the sweetness to your taste.
Serves 4
Ingredients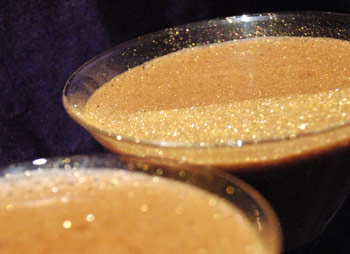 1 can of cherries in syrup (optional)
200g dairy free chocolate
Liquid drained from 1 can of chickpeas
20g caster sugar
Method
Heat the cherries over a low heat while you prepare the mousse. You are looking for the cherries to soften and the liquid to reduce.
Let them cool a little before you put the mousse on top.
Gently melt the chocolate either on a low setting in the microwave or in a bowl resting above a saucepan of simmering water.
Once it has melted, leave it aside to cool.
Meanwhile, in a large bowl whisk the chickpea liquid until you have soft peaks.
Add the sugar and whisk again until you have stiffish peaks.
Fold the chocolate into the foam very gently with a metal spoon.
Divide the cherries between four glasses, straining a little as you do if there is a lot of liquid left.
Carefully spoon the chocolate mousse over the top of the cherries and place in the fridge to set.
We have over 800 delicious freefrom recipes on this site all of which are gluten free, most of which are dairy and lactose free and many of which are free of most other allergens. Please go to the following sections to try them out: