Michelle's Freefrom Kiwi with Pomegranate
Corn, egg, gluten, lactose, milk, nightshade, nut, peanut, sesame, soya & wheat free
Lightly cooking kiwi fruit really brings out their flavour and is also a good way of using them if they are a bit hard. You can get fresh pomegranate seeds in some supermarkets but if not, buy the whole fruit and roll it around the kitchen table to loosen the seeds before removing them. Also be warned that the juice tastes wonderful but stains everything that it touches – including your hands!
Serves 6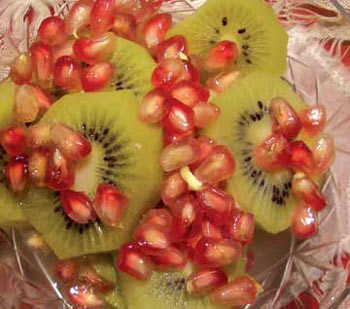 Ingredients
6 kiwi fruit, peeled and sliced crossways
seeds from 1 fresh pomegranate
3 generous tbsp of a liqueur such as Cointreau or Grand Marnier or fruit juice of your choice
Method
Lay the kiwi slices in a serving dish and sprinkle over the pomegranate seeds.
Pour over the liqueur or juice, cover and leave aside.
When ready to serve, cook for 1 minute in a microwave on high and serve at once.
Serves 6 – per portion
81cals – 1g protein
0g total fat – 0g sat / 0g mono / 0g poly
14g carbohydrate of which 14g sugar
2g fibre – 5mg sodium / 0.01g salt
19mg calcium
Good Source of: Vitamin C
We have over 800 delicious freefrom recipes on this site all of which are gluten free, most of which are dairy and lactose free and many of which are free of most other allergens. Please go to the following sections to try them out: