Katherine's Freefrom Chocolate Mousse
Corn, egg, lactose, milk, peanut, sesame & wheat free; can be gluten, nut and soya free
Although this is not a light and fluffy as an egg based mousse, its rich chocolatey-ness quite makes up for it.
Serves 4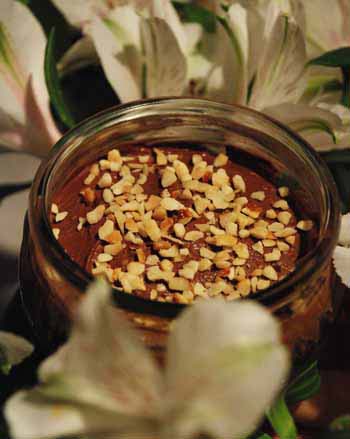 Ingredients
1 medium aubergine (eggplant)
200g / 7oz dark (bittersweet) chocolate
16 tbs oat, soya or coconut cream
2 tbs Sweet Freedom / agave syrup
1 tbs chopped toasted nuts or seeds to decorate
Method
Pierce the aubergine (eggplant) skin a few
times and cook until it is really soft. It takes about 8 minutes in the microwave in a covered bowl or up to an hour in the oven at 180C / 350F / Gas 4.
Let it cool slightly, peel off the skin and then whizz the flesh in a food processor until it is a smooth puree.
Melt the chocolate in the microwave on a low setting for about 3 minutes. I put it in for a minute at a time and stir between each blast to make sure it doesn't burn. Or you can put the chocolate in a heat proof bowl on top of a saucepan filled with about 5cm / 2" of boiling water. Make sure the bowl doesn't touch the water. Melt over a low heat, stirring occasionally.
Mix the melted chocolate with the aubergine puree.
Sweeten to taste with Sweet Freedom or agave nectar.
Thin the mixture with the cream and give everything a vigorous mix.
At this stage you could add some raisins, chopped prunes or dairy free chocolate chips if you like.
Pour the mousse into some small dishes.
Top with some toasted chopped nuts or seeds (pumpkin, sunflower or sesame) if you fancy and refrigerate.
Take out of the fridge at least 20 minutes before you intend to eat it to get the best flavour.

Serves 4 - per portion
5g Protein
24g Fat (11g Sat fat, 5.5g mono, 1.1g poly)
42g Carbohydrate of which 40g Sugar
3g Fibre, trace Sodium, trace g salt
33mg Calcium

Good Source: Copper
We have over 800 delicious freefrom recipes on this site all of which are gluten free, most of which are dairy and lactose free and many of which are free of most other allergens. Please go to the following sections to try them out: