Michelle's Freefrom Greengage or Damson Crumble
Corn, egg, lactose, milk, nightshade, peanut, sesame, soya & wheat free
You could also use this mixture for plums, blackberry and apple or any other seasonal fruit. If you cannot find pecan nuts you can substitute broken walnuts.
Serves 6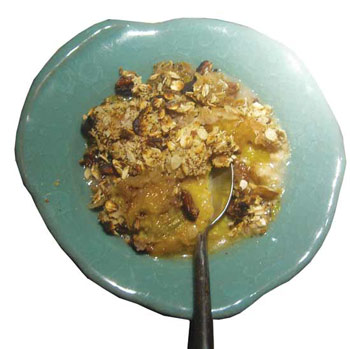 Ingredients
700g / 1lb 9oz greengages or damson plums
2 tbsp agave or maple syrup or light muscovado (raw) sugar
50ml / ½ fl oz water
70g / 2½ oz porridge or rolled oats
50g / 2 oz ground almonds
20g / ½ oz flaked almonds
50g / 2 oz pecan nuts
Method
Heat the oven to 180C/350F/Gas mark 4.
Lay out the greengages or damsons in bottom of a pie dish (pan) and spoon over the agave or maple syrup or the sugar.
Add the water.
In a bowl, mix the oats with almonds and pecan nuts then spread this mixture over the fruit.
Bake, uncovered, for 40 minutes and serve warm or at room temperature alone or with whatever cream, yogurt or ice cream you can eat.
Serves 6 – per portion
229cals – 5g protein
13g total fat – 1g sat / 8g mono / 3g poly
16g carbohydrate of which 15g sugar
4g fibre – trace sodium / trace salt
64mg calcium
We have over 800 delicious freefrom recipes on this site all of which are gluten free, most of which are dairy and lactose free and many of which are free of most other allergens. Please go to the following sections to try them out: