Michelle's Freefrom Gooseberry and Redcurrent Fool
Egg, gluten, milk, nut, peanut, sesame & wheat free; can be corn, lactose, nightshade & soya free
You can use cornflour or potato flour and goat, sheep, soya or rice milk to make your sauce - although you will probably need less sweetener if you use rice milk. We used agave syrup - which has a low glycaemic load - to sweeten the fruit but you could also use maple syrup, molasses or muscovado (raw) sugar. The amount you need will depend on the tartness of the fruit.
Serves 6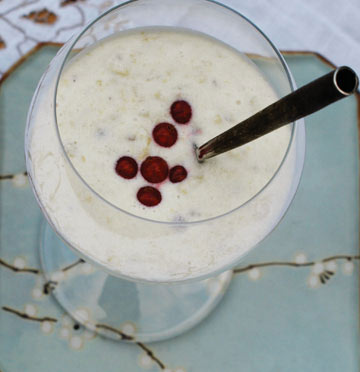 Ingredients
750g / 1 lb 10oz fresh gooseberries
200g / 7 oz fresh redcurrants
100ml / 3½ fl oz water
1-3 tbsp agave syrup
30g / 1 oz cornflour (cornstarch) or potato flour
500ml / 17fl oz liquid made up from the juice from the fruit and goat, sheep, soya or rice milk.
Method
Top and tail the gooseberries and remove the stems from the redcurrants.
Reserving a few redcurrants for decoration, put the fruit into a pan with 100ml / 3½ fl oz water.
Bring to the boil and simmer gently until the fruit is cooked - 5-6 minutes.
Strain the fruit and reserve the juice.
Purée the fruit in a food processor. How 'bitty' or smooth you make it will be up to your personal preference.
Sweeten the fruit to taste with your chosen sweetener.
Make the juice up to 500ml / 17fl oz with your chosen 'milk'.
Stir a little of the liquid into the cornflour (cornstarch) in a small saucepan.
Gradually add the rest of the liquid then bring slowly to the boil, stirring all the time to prevent lumps.
Once thickened, cook for a few minutes then amalgamate with the puréed fruit.
Spoon into glasses or sundae dishes and chill thoroughly.
Decorate with a few redcurrants and serve chilled.
Serves 6 - per portion
100cals - 4g protein
3g total fat - 1.5g sat / 0.5g mono / 0.5g poly
16g carbohydrate of which 10g sugar
4g fibre - 31mg sodium / 0.08g salt
Good Source of: Vitamin C
We have over 800 delicious freefrom recipes on this site all of which are gluten free, most of which are dairy and lactose free and many of which are free of most other allergens. Please go to the following sections to try them out: