Freefrom Gooseberry (or Other Fresh Fruit) Fool
Corn, egg, gluten, milk, nightshade, nut, peanut, sesame & wheat free; can be gluten, lactose & soya free
How can one resist gooseberries in season! However, you can use any other soft fruit that is in season.
Serves 6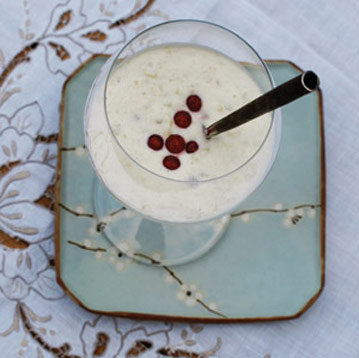 Ingredients
450g / 1 lb fresh gooseberries, trimmed
1 tbsp agave syrup or sweetener of your choice
generous ½ tsp gelatine (not if using goat cream)
225ml / 7½ fl oz well chilled goat, soya or oat cream
60g / 2 oz redcurrants (optional)
Method
Put the gooseberries in a pan with just enough water to cover the bottom of the pan and the agave syrup or sweetener.
Bring slowly to the boil and simmer for 3–4 minutes only.
Allow to cool in the juice.
Strain off most of the juice and reserve.
Purée the gooseberries – how much you do so will depend on how smooth/bitty your like your fool.
Melt the gelatine in 50ml / 1½ floz of the cooking juices and stir into the gooseberries. (Omit if you are using goat cream.)
Whisk the cream – if using goat it will go quite thick so be careful – then fold it into the fool.
If you are using them, stir in the redcurrants saving a few to decorate each serving.
Spoon into glasses and chill before serving.
Serves 6 – per portion
79cals – 1.3g protein
5g total fat – 0.5g sat / 0.3g mono / 2g poly
7g carbohydrate of which 5g sugar
2g fibre – trace sodium / trace salt
26mg calcium
We have over 800 delicious freefrom recipes on this site all of which are gluten free, most of which are dairy and lactose free and many of which are free of most other allergens. Please go to the following sections to try them out: