Michelle's Freefrom Fig and Oat Ice Cream
Corn, egg, lactose, milk, nightshade, nut, peanut, sesame, soya & wheat free
Fresh figs have a quite short season, are horribly delicate and can go off very quickly – so here is the perfect way to use up the ones that got bruised or are already slightly past their best.
Serves 6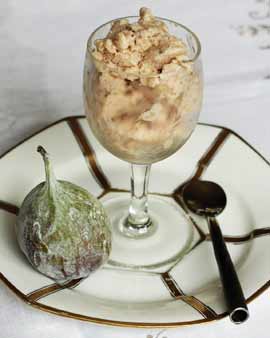 Ingredients
4–5 fresh figs, depending on size
1–2 tbsp honey, depending on how sweet you like your figs
(you could also use maple syrup, agave syrup or Sweet Freedom)
300ml / 10fl oz oat cream
(you could also use soya cream or coconut milk although the flavour, with the latter, would be significantly different)
Method
Top the figs, cut them up and purée them with the honey (or other sweetener) in a food processor.
Stir in the oat cream and mix well.
Sweeten further if necessary.
Tip into an ice cream maker and churn freeze or, tip all into a bowl and put in the freezer.
Take out and stir vigorously every 15 minutes until it is frozen but not rock hard.
Eat at once or store in the freezer but remember to transfer it from freezer to fridge at least half an hour before you want to eat it.
Serves 6 – per portion
97cals – 1g protein
7g total fat – 1.5g sat / 2g mono / 0.6g poly
8g carbohydrate of which 7g sugar
0.5g fibre – trace sodium / trace salt
13mg calcium
We have over 800 delicious freefrom recipes on this site all of which are gluten free, most of which are dairy and lactose free and many of which are free of most other allergens. Please go to the following sections to try them out: