Freefrom Danish Apple Cake
Corn, egg, gluten, lactose, milk, nightshade, nut, peanut, sesame, soya & wheat free
This is a loose adaptation of a recipe in the original Constance Spry cookbook which lives in my kitchen cupboard and which I always use for reference.
Serves 6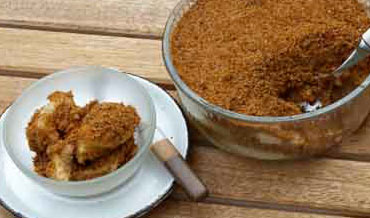 Ingredients
approximately 800g cooking apples, cored, peeled and sliced
2 pieces of lemon rind
½ tbsp olive oil
1 tbsp agave syrup or pale muscovado sugar
100ml water
½ small loaf of gluten/wheat and dairy-free bread, crumbed
2 tbsp dark muscovado sugar
whatever cream, yogurt or ice cream that you can eat
Method
Put the apples in a saucepan with the lemon rind, oil, agave syrup or sugar and the water.
Bring slowly to the boil and simmer very gently for 6-8 minutes until the apples are soft but not mushy.
Meanwhile, toast the breadcrumbs in the oven till crispy.
Take out and cool. When cold mix in the dark muscovado sugar.
Arrange around half of the apples and juice in the bottom of a round pie dish.
Spoon over a layer of breadcrumbs.
Cover them with the rest of the apple and then with the remaining breadcrumbs and pat down.
The 'cake' can be served warm or cold.
Serves 6 – per portion
Calories 156 Kcals
3g Protein
1.7g Fat (0.2g Sat fat, 0.8g mono, 0.4g poly)
35g Carbohydrate of which 21g Sugar
3g Fibre, 159g Sodium, 0.4g salt
69mg Calcium

Good Source: Vitamin B1
We have over 800 delicious freefrom recipes on this site all of which are gluten free, most of which are dairy and lactose free and many of which are free of most other allergens. Please go to the following sections to try them out: