Michelle's Freefrom Apple and Blackberry Brown Betty
Corn, egg, gluten, nightshade, nut, peanut, sesame, soya & wheat free; can be lactose & milk free
A very simple and delicious alternative to a crumble.
Serves 6
Ingredients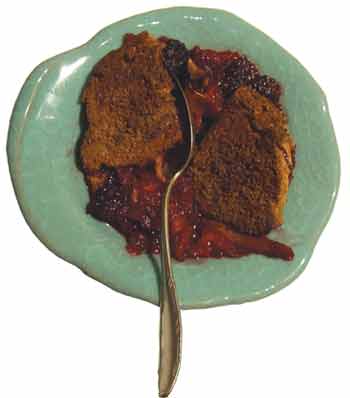 3 Bramley cooking apples
400g / 14 oz fresh or frozen blackberries or raspberries
water
1-2 tbsp agave syrup or muscovado (raw) sugar (optional)
4-6 slices gluten-free bread
butter or dairy-free spread
2 tbsp dark muscovado (raw) sugar
½ tsp ground cinnamon
Method
Heat the oven to 180C/350F/Gas mark 4.
Core and slice the cooking apples but do not peel.
Lay out, with the berries in a flat oven-proof dish and add water to approximately half way up the fruit.
If you think you will need it (we did not) pour or sprinkle over the agave syrup or sugar.
Cover with foil and bake for 15 minutes.
Remove from the oven and cut the bread to fit the dish.
Lightly 'butter' the bread and lay over the fruit.
Mix the cinnamon and sugar and sprinkle over the bread.
Return to the oven and bake for 25-30 minutes or until the bread is lightly crisped.
Serve hot alone or with whatever yogurt, cream or ice cream you can eat.

Serves 6 - per portion
170cals - 3g protein
4g total fat - 2.5g sat / 1g mono / 0.4g poly
33g carbohydrate of which 21g sugar
3.5g fibre - 158mg sodium / 0.4 salt
62mg calcium
We have over 800 delicious freefrom recipes on this site all of which are gluten free, most of which are dairy and lactose free and many of which are free of most other allergens. Please go to the following sections to try them out: