Michelle's Freefrom Apple Rice Pudding
Corn, egg, lactose, milk, nightshade, nut, peanut, sesame & wheat free; can be gluten or soya free
A very simple, old fashioned rice pud – with a twist.
Serves 6
Ingredients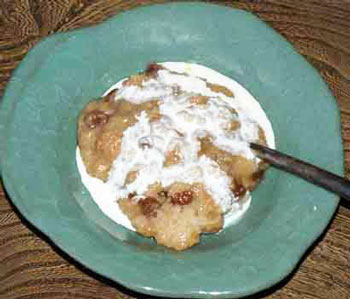 400g / 14 oz cooking apples
250ml / 8fl oz water
piece lemon peel
1 tbsp gave syrup or other sweetener of your choice
40g / 1½ oz pudding rice
75g / 2½ oz sultanas (golden raisins)
450ml / 15fl oz oat cream / soya cream / coconut milk
Method
Wipe and core the apples and peel or not as you feel inclined – I tend to leave the skin on mine.
Chop them fairly small and put into a saucepan with the water, lemon peel and agave syrup.
Bring to the boil and cook gently for 15–20 minutes then purée in a food processor.
Heat the oven to 140C/275F/ Gas mark 2.
Put the rice into a pie dish then add the sultanas, apple and oat (or other) cream.
Mix well.
Bake uncovered for 2 hours or until the pudding is set.
Eat warm or at room temperature, alone or with extra cream.
Serves 6 – per portion
Calories 204 Kcals
2g Protein
10g Fat (2g Sat fat, 1g mono, 0.5g poly)
27g Carbohydrate of which 19g Sugar
1.7g Fibre, 34g Sodium, Trace g salt
12mg Calcium

We have over 800 delicious freefrom recipes on this site all of which are gluten free, most of which are dairy and lactose free and many of which are free of most other allergens. Please go to the following sections to try them out: