Michelle's Freefrom Apple and Kiwi Calfoutis
Corn, gluten, lactose, milk, nightshade, nut, peanut, sesame, soya & wheat free
A very simple but warming dessert when the evenings are still cold.
Serves 6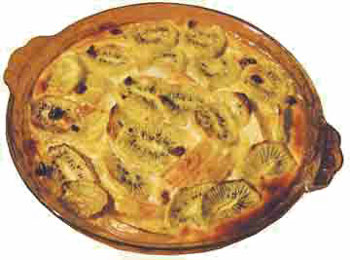 Ingredients
1½ large Bramley apples, cored and sliced
5 kiwi fruit, peeled and sliced into rounds
2 tbsp fresh or dried cranberries,
pomegranate seeds,
red currrants or blueberries
3 small eggs
1½ tbsp agave syrup or pale muscovado (raw) sugar
400ml / 13½ fl oz coconut milk


Method
Heat the oven to 170C/ 325F/Gas Mark 3½.
Lay the sliced apple out in a flan dish (tart pan) and cover it with the sliced kiwi fruit.
Sprinkle over the loose fruit.
In a bowl beat the eggs with the agave syrup or sugar and the coconut milk.
Pour this over the fruit and bake, uncovered, for 40 minutes or until the custard is set.
Serve hot, warm or at room temperature.
We have over 800 delicious freefrom recipes on this site all of which are gluten free, most of which are dairy and lactose free and many of which are free of most other allergens. Please go to the following sections to try them out: