Michelle's Freefrom Almond Milk Pannacotta
Corn, egg, gluten, lactose, milk, nightshade, peanut, sesame, soya & wheat free
Panna cotta is a classic Italian dessert – a sort of cream jelly! Traditionally, according to Anna del Conte in her book Amaretto, Apple Cake and Artichokes 'it was served at dinner parties at the Royal House of Savoy, later to become the Royal House of Italy. In Piedmont it was, and usually still is, served without any fruit – just a pure white delectable cream. The secret of a good panna cotta,' she goes on, 'is to use as little gelatine as possible' – so that it really wobbles!!
You can buy all of Anna's books here on Amazon in the UK and here on Amazon in the US.
Obviously, a 'pure white delectable cream' is not an option for freefrom-ers, so I have adapted Anna's recipe, substituting almond milk for the cream. The resulting panna cotta might be considered rather 'thin' by cream lovers and, I think, does need the fruit purée but, with it, it is delicious and very refreshing after a big meal.
If you do not want to use almond milk you could use a different plant milk but in that case you might want to substitute a liqueur for the brandy (almond milk is naturally quite sweet so a liqueur made the mixture far too sweet).
Serves 6
Ingredients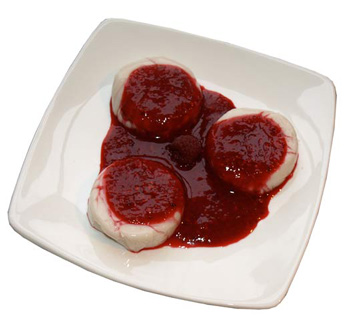 600ml almond milk
4 tbsp brandy
2 vanilla pods
10g / scant ½ oz gelatine
1 tbps cold water
3 tbps boiling water
100g / 4 oz raspberries or strawberries or any other combination of soft red fruit
1–2 tsp sugar, to taste – or, if you prefer, a sweet liqueur as Cointreau, Grand Marnier or Cherry brandy
raspberries or strawberries to decorate
Method
In a saucepan, slowly heat the almond milk with the brandy and vanilla pods until just below boiling – the surface will begin to shudder.
Turn off the heat and leave to infuse for a couple of hours or until it is quite cold.
When it is cold, put the gelatine in a small bowl and dampen it with the cold water.
Add the three tablespoons of boiling water.
Set the bowl in another large bowl with boiling water and stir the gelatine until it is totally melted.
Remove from the hot water bowl, refill the bigger bowl with cold water and cool the gelatine bowl in it.
When it is nearly cold, add a tablespoon of the almond milk, still well, then gradually add the rest of the almond milk.
Line six ramikin dishes with cling film, pushing as well as you can into the sides so that it is smooth.
Pour the almond milk mixture into the ramikins, sit them in a baking tray and chill in the fridge until they are set.
Meanwhile, purée the raspberries, or whatever soft fruit you are using, in a food processor or liquidiser and sweeten to taste with sugar or liqueur.
Set aside until you need it.
When you are ready to serve, carefully remove the pannacotta from the ramikin dishes.
Using a spatula or fish slice (to up end them onto) slide them onto individual dishes or onto a serving platter.
Pour over enough of the fruit sauce to lightly cover but not drown them, decorate with the fruit, and serve the rest of the sauce separately.
We have over 800 delicious freefrom recipes on this site all of which are gluten free, most of which are dairy and lactose free and many of which are free of most other allergens. Please go to the following sections to try them out: