Katherine's Freefrom Rich Chocolate Torte
Corn, egg, gluten, lactose, milk, nightshade, nut, peanut, sesame & wheat free; can be soya free
This torte is very rich and dark so be careful with portion sizes! Dip your blade in boiling water and wipe between cuts if you want a sharp looking slice. Because the torte is not baked, the size of the tin is not critical - the smaller the tin, the thicker the torte. You could also pour the mixture directly into individual glasses to chill and serve.
Serves 12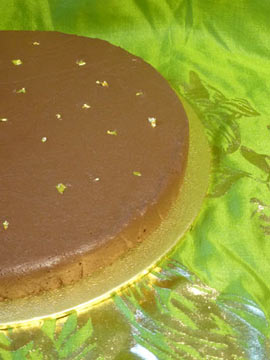 Ingredients
400g dark dairy free chocolate
500g dairy free cream (I used Alpro soya single)
6 tbsp Cointreau
50g coconut butter
100g hazelnuts
icing sugar or cocoa powder or gold leaf to decorate
Method

Line a 22cm loose bottom shallow cake tin as smoothly as possible with cling film.
Toast the hazelnuts in a dry frying pan until starting to brown. If they have skins on, place inside a clean towel and rub to remove the skins.
Chop the nuts small or gently whizz in a food proccessor. You are aiming for little chunks rather than powder.
Break up the chocolate and place in a large saucepan along with the cream, cointreau and coconut butter.
Warm gently over the lowest heat possible until everything is combined to make a smooth sauce.
Check the flavour and add sugar if you prefer a sweeter taste. Leave the pan on the heat to allow the sugar to melt.
Remove the pan from the heat. Add the hazelnuts and mix through.
Allow the mixture to cool a little before gently pouring into the prepared tin. Chill for at least 4 hours.
Place the serving plate on top of the tin and gently flip so that the torte drops onto the plate.
Gently remove the tin and cling film. Dust with icing sugar or cocoa powder or dot with gold leaf to decorate.
We have over 800 delicious freefrom recipes on this site all of which are gluten free, most of which are dairy and lactose free and many of which are free of most other allergens. Please go to the following sections to try them out: