Katherine's Freefrom Rhubarb and Ginger Calfoutis
Gluten, lactose, milk, nightshade, nut, peanut, sesame, soya & wheat free
This is where any explanatory text would go...
Serves 4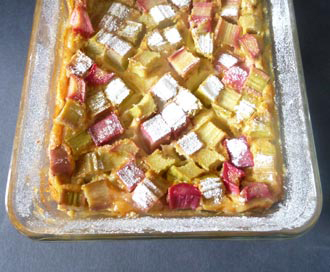 Ingredients
veg oil / dairy free spread to grease dish
6 tbsp caster sugar
250g (2 stalks) rhubarb
3 eggs
300ml dairy free milk
75g plain gluten free flour
zest of 1 orange
2 tsp ground ginger
pinch of salt
icing sugar to dust
Method

Preheat the oven to 190oC/ Gas Mark 5.
Grease a small oven proof dish (approx. 28x18cm) and sprinkle 1 tbsp of sugar over the base.
Tip the dish so that the sides are also coated with sugar.
Wash the rhubarb and cut into 1cm pieces.
Place in a bowl and sprinkle over 2 tbs of sugar. Mix thoroughly and leave for about 30 minutes.
Whisk together the eggs, milk, flour, orange zest, ginger, remaining 3 tbsp sugar and salt until you have a smooth batter.
Spread the rhubarb evenly in the bottom of the dish and gently pour over the batter.
Bake for 55-60 minutes until firm and lightly brown.
Leave to cool for 5 minutes before dusting with icing sugar to serve.
We have over 800 delicious freefrom recipes on this site all of which are gluten free, most of which are dairy and lactose free and many of which are free of most other allergens. Please go to the following sections to try them out: