Freefrom Pineapple Upside-Down Cake
Gluten, lactose, milk, nightshade, nut, peanut, sesame, soya & wheat free
A tasty retro classic. Serve with dairy free custard, ice cream or just on its own.
Serves 6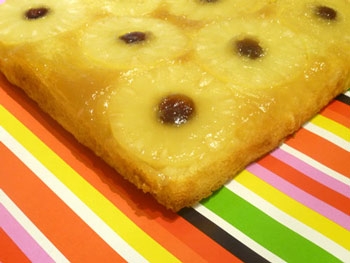 Ingredients
4 tbs maple syrup
8 small or 6 large pineapple rings (fresh or canned)
a glace cherry for each pineapple ring
300g coconut oil or dairy free spread
250g caster sugar
4 eggs
300g gluten-free self-raising flour

Method

Preheat the oven to 180oC / gas 4. Line a deep 25x25cm tin or dish with baking paper.
Put the maple syrup on the base of the tin (on the parchment) and spread to cover.
Place the pineapple slices evenly around the tin (it doesn't matter if there are gaps or they are squashed together) and place a cherry in the centre of each ring.
Beat the coconut oil with the sugar until smooth and creamy.
Beat in the eggs one at a time. If the mixture curdles, add a spoon of the flour and continue mixing.
Gently fold in the flour and only mix until the cake mix is just blended.
Spoon gently on top of the pineapple and lightly smooth to cover the whole tin.
Bake for 35-40 minutes until a skewer comes out clean from the centre of the cake.
Leave in the tin for half an hour to cool and then turn out onto a plate to serve.
We have over 800 delicious freefrom recipes on this site all of which are gluten free, most of which are dairy and lactose free and many of which are free of most other allergens. Please go to the following sections to try them out: