Katherine's Freefrom Fresh Fig Parkin
Lactose, milk, nightshade, nut, peanut, sesame, soya & wheat free
A warming hearty ginger pudding, lifted with the moisture of fresh figs.
Serves 12
Ingredients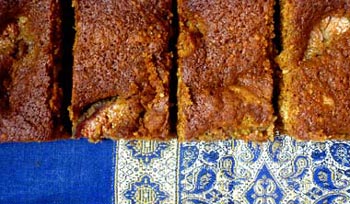 100g dairy free spread
200g gluten free self-raising flour
2 tsp ground ginger
1 tsp bicarbonate of soda
100g gluten-free medium oatmeal
4 fresh figs
150g molasses
150g agave syrup
4 tbsp rice milk
1 egg

Method

Preheat the oven to 170c, gas mark 3. Line a 28x24cm baking tin with baking paper.
Mix together the flour, ginger, bicarbonate of soda and oats.
Cut each fig in half and then slice each half into four. Stir half of the cut figs into the flour mixture.
Gently melt the dairy free spread, molasses and agave in a saucepan until smooth.
Remove from the heat then mix in the milk and egg.
Add the liquid to the flour mixture and gently mix until completely combined.
Pour into the prepared tin and lightly press the remaining figs around the cake.
Bake for about 40 minutes until the cake feels firm in the middle.
Serve warm with dairy free ice cream, custard or yogurt.

We have over 800 delicious freefrom recipes on this site all of which are gluten free, most of which are dairy and lactose free and many of which are free of most other allergens. Please go to the following sections to try them out: