Michelle's Freefrom Sultana and Chocolate Chip Cake
Gluten, lactose, milk, nightshade, nut, peanut, sesame, soya & wheat free
A slightly odd combination of flavourings that actually works very well.
Serves 6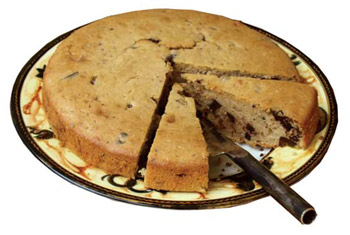 Ingredients
150g / 5½ oz dairy-free spread (we used Pure Organic)
100g / 3½ oz caster (fine white) sugar
1 tsp caraway seeds
3 eggs
150g / 5½ oz gluten and wheat-free self raising flour or
75g / 2½ oz each gram and rice flour
add 1 tsp gluten/wheat free baking powder (baking soda) - if you do not use self-raising flour
70g / 2½ oz dairy-free dark (bittersweet) chocolate, drops or slab
70g / 2½ oz sultanas (golden raisins)

Method
Heat the oven to 180C/350F/Gas mark 4.
Beat the spread with the sugar and caraway seeds in an electric mixer until they are pale and creamy.
Mix in the eggs, one by one with the flour.
Break up the chocolate, if it is in a slab, into small chips – do not grate it if you want decent size lumps – and stir into the cake mix along with the sultanas (golden raisins).
Turn into a well greased cake tin (pan) with a removable bottom and bake for 30 minutes or until a skewer comes out clean.
Cool on a rack (grid).
We have over 800 delicious freefrom recipes on this site all of which are gluten free, most of which are dairy and lactose free and many of which are free of most other allergens. Please go to the following sections to try them out: