Doves Farm Freefrom Sponge Layer Cake
Egg, gluten, lactose, milk, nightshade, nut, peanut, sesame, soya & wheat free
Serves 6
Clare Marriage spends much of her time experimenting and testing the recipes that appear on the Doves Farm flour packs. She is especially pleased with this one, which she developed with their self-raising (self-rising) GF flour - and so she should be as, spurred on by the desire to be able to offer a really nice sponge cake to her son's egg-allergic housemate, she has managed to achieve a near miracle in free-from bakery - a delicious egg-free and gluten-free sponge cake!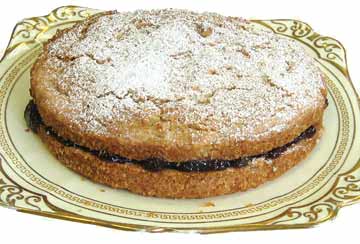 Ingredients
1 tsp oil (for greasing)
125g / 4½ oz sugar
6 tbsp sunflower oil
1 tbsp vanilla extract
½ a ripe banana
150g / 5½ oz gluten-free self-raising (self-rising) flour
4 tbsp water
2 tbsp jam (jelly)
1 tsp icing (confectioners) sugar
Method
Heat the oven to 190C (Fan oven 170C), 375F, Gas mark 5.
Line an 18cm round cake tin (7" cake pan) with lightly oiled greaseproof (waxed) paper.
In a bowl beat together the sugar, oil and vanilla.
Peel and mash the banana then beat into the sugar mixture.
Add the flour and water and mix well.
Turn into the prepared cake tin (pan) and smooth the top.
Bake in a preheated oven for 35 minutes.
Cool the sponge on a wire rack (grid).
Using a bread knife slice the sponge in half horizontally.
Spread one half of the sponge with jam (jelly) and place the other on top.
Sieve the icing (confectioners) sugar over the top of the cake.

Serves 6 - per portion
285cals - 2g protein
11g total fat - 2g sat / 8g mono / 1g poly
45g carbohydrate of which 25g sugar
1g fibre - 92mg sodium / 0.2 salt
91mg calcium
We have over 800 delicious freefrom recipes on this site all of which are gluten free, most of which are dairy and lactose free and many of which are free of most other allergens. Please go to the following sections to try them out: