Michelle's Freefrom Coconut Milk Soda Bread
Corn, egg, gluten, lactose, milk, nut, peanut, sesame, soya & wheat free
This mixture makes a really tasty, coarse brown soda bread – not the same as the original but a good substitute..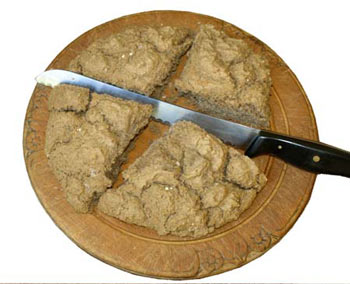 Ingredients
100g / 4oz buckwheat flour
150g / 6oz gram (chickpea) flour
50g / 2oz millet flakes
50g / 2oz potato flour
1 level tsp salt
2 level tsp bicarbonate of soda
2 level tsp cream of tartar
1 heaped tsp xanthan gum
300ml/10floz coconut milk
juice ½ lemon
Method

Heat the oven to 190C/375F/Gas mark 5.
Flour a baking tray.
Mix all the dry ingredients well together.
Form a well in the centre and add the coconut milk and lemon juice.
Incorporate it quickly and lightly into the dough which will be quite 'wet'.
Form the dough into a round loaf shape and cut a cross on the top with a wet knife.
Bake for 40 minutes then remove from the oven, ease gently off the tray with a spatula and cool on a rack.
Whole loaf:
1735 Calories
54g Protein
62g Fat ( 46g Sat fat, 1.6g mono, 4.3g poly)
246g Carbohydrate of which 18g Sugar
28g Fibre, 4789mg Sodium, 12g salt
314mg Calcium
We have over 800 delicious freefrom recipes on this site all of which are gluten free, most of which are dairy and lactose free and many of which are free of most other allergens. Please go to the following sections to try them out: