Ruth Holroyd's Gluten Free Mesquite Cake-in-a Mug
Corn, gluten, lactose, milk, nightshade, nut, peanut, sesame, soya & wheat free

Ruth, who is severely allergic to nuts and dairy products, runs the excellent What Allergy? blog and we were rivetted, the other day, by her post about her chocolate-cake-in-a-mug..... So we asked if we could share!

I found a delicious GF cake-in-a-mug recipe on the Gluten Free Living website which uses rice and tapioca flour. I've made this cake with 2 tbsp of rice flour and 1 each of potato and maize flour and it works just as well, if you don't have the right flour in the cupboard.
Ingredients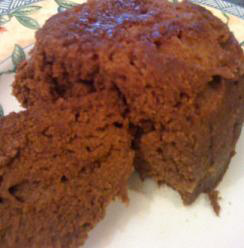 1 large Coffee Mug (or small bowl/glass measuring jug)
2 tbsp rice flour
2 tbsp tapioca flour
1 tbsp of mesquite flour (you can use or more of this, depending on your taste)
¼ tsp guar gum (optional, I have made it without and it's fine)
4 tbsp sugar
2 tbsp cocoa / drinking chocolate (check it is dairy free)
1 egg (or your preferred egg replacer. For a natural egg replacement try mixing three tablespoons of water and one tablespoon of ground flaxseed, soak for half an hour and the flax seed soaks up the water to make a gloopy, eggy consistency)
3 tbsp milk or rice/soya milk
3 tbsp oil
3 tbsp dairy free chocolate chips (optional but very advisable)
small splash vanilla essence


Method
Mix the flax seed egg replacer about half an hour before you want to eat the cake and leave to mulch!
Using a spray coat the inside of the mug with oil to prevent sticking.
Add dry ingredients to mug and mix well
Add egg, mix thoroughly
Add milk and oil, mix again
Add chocolate chips and vanilla, mix
Cook for 3 to 3½ minutes in the microwave.
Cake will rise over the top of the mug!
This may serve two as a dessert depending on your appetite.


Variation
In the bottom of another mug place 2 tablespoons of jam or crushed raspberries. Mix the cake up and pour over the jam. When cooked, tip out for a chocolate dessert with jam sauce topping.

Second variation
Make as for jam variation but leave out cocoa replacing it with same amount of rice flour. Add grated orange rind to mixture.

This recipe does make too much cake for one person and it doesn't really keep too well; it's best eaten warm and gooey straight from the microwave.
We have over 800 delicious freefrom recipes on this site all of which are gluten free, most of which are dairy and lactose free and many of which are free of most other allergens. Please go to the following sections to try them out: