Michelle's Freefrom Rhubarb and Ginger Cake
Corn, gluten, lactose, milk, nightshade, nut, peanut, sesame, soya & wheat free
The forced rhubarb season is quite short so it is good to indulge while one can. This cake is particularly delicious served warm as a dessert - you can pour the lovely juice over it or drink it as a dessert wine! But, if you do not finish it as a dessert, it still tastes great with a cup of tea the next day.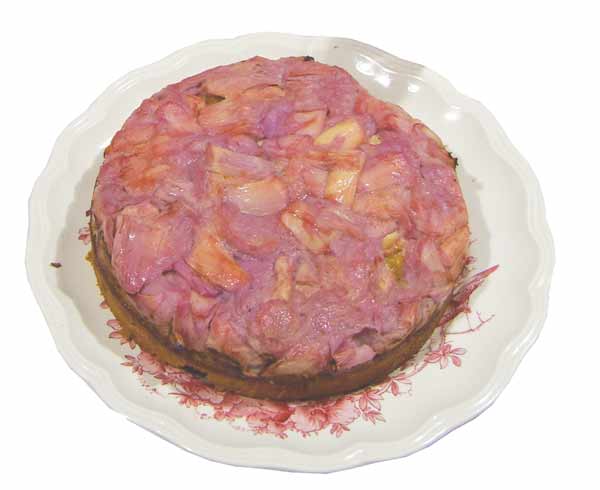 Ingredients
400g / 14 oz pink, forced rhubarb
1-2 tbsp agave syrup or chosen sweetener
100g / 3½ oz butter or dairy-free spread (we used PURE organic)
100g / 3½ oz pale muscovado (raw) sugar
150g / 5½ oz rice flour
50g/ 2oz gram/chick pea flour
1 heaped tsp ground ginger
1 level tsp gluten/wheat free baking powder (baking soda)
5 eggs
3 pieces stem/crystallised ginger, cut into very small cubes
Method
Wipe and chop the rhubarb into 300mm / 1" pieces and put in a pan with the agave syrup and approx. 25mm / 1" water.
Bring slowly to the boil and cook very gently for a couple of minutes then turn off the heat and allow the rhubarb to finish cooking in its own heat.
Strain the rhubarb, reserving the juice.
Heat the oven to 180C/350F/Gas mark 4 and grease a loose bottomed 15-18cm cake tin (6-7" cake pan).
Beat the butter or spread with the sugar until pale.
Sift the flours with the ground ginger and baking powder (baking soda).
Mix in the eggs, one at at time, each with a tablespoon of the flour mix.
Fold in the remains of the flour with the stem ginger pieces.
Spoon the mixture into the cake tin and bake for 20 minutes.
Remove from the oven and carefully spoon the drained rhubarb over the top of the cake, spreading well out to the sides of the tin.
Return to the oven and bake for a further 30 minutes.
Remove from the oven and cool slightly then remove from the tin by loosening the sides then sitting the tin on a jar and carefully pressing the sides down.
With a spatula (turner) loosen the bottom of the cake and remove the cake onto a plate.
Serve warm with the rhubarb juices.
Alternatively, allow the cake to get cold and serve as a tea cake.

Serves 8 - per portion
318cals - 7.5g protein
15g total fat - 8g sat / 4.5g mono / 1g poly
41g carbohydrate of which 21g sugar
1.5g fibre - 210mg sodium / 0.5g salt
We have over 800 delicious freefrom recipes on this site all of which are gluten free, most of which are dairy and lactose free and many of which are free of most other allergens. Please go to the following sections to try them out: