Orange and Pistachio Slices
Gluten, lactose, milk, nightshade, peanut, sesame, soya & wheat free
Not a fancy cake but extremely tasty.
Makes 16 slices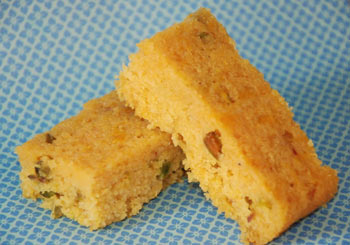 Ingredients
2 oranges
125g dairy free spread
125g caster sugar
2 eggs
60g rice flour
100g ground almonds
1 tsp baking powder
45g fine polenta
75g shelled, unsalted pistachio nuts
Syrup
juice of 2 oranges
juice of 1 lemon
60g caster sugar
Method
Heat the oven to 170°C/Gas 3.
Grease and line the base of a 20cm x 20cm cake tin with baking parchment.
Peel the oranges and roughly chop the flesh.
Put in a small pan with a splash of water and bring to the boil.
Reduce heat and simmer for about 10 minutes.
Puree witha blender and set aside.
Cream the spread and sugar together.
Beat in the eggs, one at a time.
Mix the rice flour, almonds, baking powder and polenta together.
Fold gently into creamed spread.
Chop the pistachios and carefully stir into the mix along with the orange puree.
Bake for about 35 minutes until a skewer comes out clean.
Leave to cool a little in the tin, then turn onto a cooling rack.
In a small pan, heat the orange juice, lemon juice and sugar.
Bring to the boil and then reduce the heat.
Simmer for about 5 minutes.
Spoon the syrup over the cake until the whole surface is covered.
Leave to soak in thoroughly and then cut into slices.
We have over 800 delicious freefrom recipes on this site all of which are gluten free, most of which are dairy and lactose free and many of which are free of most other allergens. Please go to the following sections to try them out: