Michelle's Freefrom Oatmeal Berry Muffins
Corn, lactose, milk, nightshade, nut, peanut, sesame, soya & wheat free

Muffins are always good for that Sunday-morning-with-the-papers breakfast. If you want to keep some for next weekend, you can freeze two successfully. Allow them to thaw slowly at room temperature when you want to eat them – they won't take long.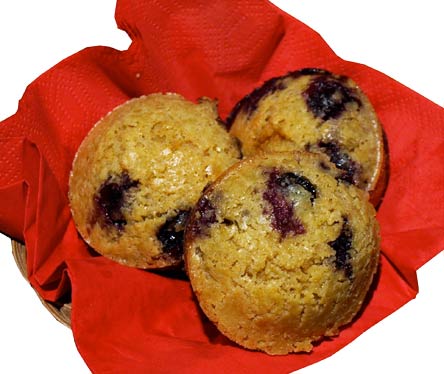 Makes 4
Ingredients
1 tbsp dark agave syrup
25g / 1oz butter or coconut oil
1 egg
60ml / 2floz of whatever milk you
can tolerate soured with a squeeze of lemon
100g / 4oz porridge oats, whizzed in a food processor to get them as near the consistency of wholemeal flour as possible
1 scant teaspoon gluten and wheat-free baking powder
small pinch of salt
50g / 2ozs blueberries
Method
Heat the oven to 180C/350F/Gas Mark 4.
Melt the agave syrup with the butter or coconut oil then remove from the heat and cool slightly.
Mix the egg and milk together and add to the agave and butter.
Mix the flour with the baking powder and salt and gradually beat them into the liquid mixture.
Fold in the berries and spoon the dough into greased mince pie or tart pans.
Bake the muffins for 20 minutes.
Remove them, cool slightly on a rack and serve warm or at room temperature.
Makes 4 muffins - per muffin
190 Calories
5.3g Protein
9.3g Fat ( 4g Sat fat, 2g mono, 0.4g poly)
22.5g Carbohydrate of which 3.7g Sugar
2.8g Fibre, 289mg Sodium, 0.7g salt
57mg Calcium

We have over 800 delicious freefrom recipes on this site all of which are gluten free, most of which are dairy and lactose free and many of which are free of most other allergens. Please go to the following sections to try them out: