Katherine's Gluten Free Naan Bread
Gluten, lactose, milk, nightshade, nut, peanut, sesame & wheat free

Makes 6

Ingredients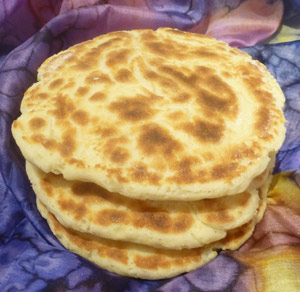 100ml warm water
1 tbsp honey
1 sachet (7g) dry instant yeast
4 tbsp soya yogurt (or other yogurt you can tolerate)
320g gluten free bread flour (I used Doves Farm) or plain gluten free flour with 2 tsp xanthan gum
1 tsp salt
¼ tsp baking powder
2 eggs
vegetable oil for frying
dairy free spread to serve
Method
Put the warm water in a small bowl and stir in the honey until dissolved.
Add the yeast and stir. Leave for 5-10 minutes until frothy.
In a large bowl mix the flour, salt and baking powder (and xanthan gum if it is not in the flour you are using).
Whisk the eggs and yogurt into the yeast mixture.
Gently stir the wet mixture into the flour mixture until thoroughly combined and smooth.
Cover the bowl with a tea towel and leave to rest for 20 minutes.
Divide the mixture into 6 even pieces.
Heat some vegetable oil in a non stick frying pan.
Lightly flour your hands. Take a piece of dough and roll into a ball.
Press the ball flat into the palm of one hand and then transfer to the hot frying pan.
Press the dough flatter with the back of your fingers or a spatula.
Cook for about 2½ minutes on each side.
Repeat with the remaining pieces of dough, adding more oil to the frying pan when necessary.
Serve immediately, spread with dairy free spread.

We have over 800 delicious freefrom recipes on this site all of which are gluten free, most of which are dairy and lactose free and many of which are free of most other allergens. Please go to the following sections to try them out: