Micki Rose's Grain-Free Almond Fruit Tray Bake
Corn, gluten, lactose, milk, nightshade, peanut, sesame, soya & wheat free

Micki Rose, as regular visitors to this site will know, is a nutritionist with an especial interest in totally grain and gluten-free diets which she feels are the only way for some gluten sensitives to regain health. For more, see her article and her own new 'grain-free' site – www.trulyglutenfree.co.uk We persuaded her to 'lend' us one of her totally grain-free recipes....

This has become a standby in our house because I have a sweet tooth and am always hungry. But, of course, I want something high protein, nutrient-rich, that tastes naughty and is easy to make.

I tend to use cups for measuring most of the time as it saves getting the scales out and is far quicker. If you haven't any cups, just work on 2:1 ratio of almond flour to fruit and coconut. If you don't like coconut, add more almond flour.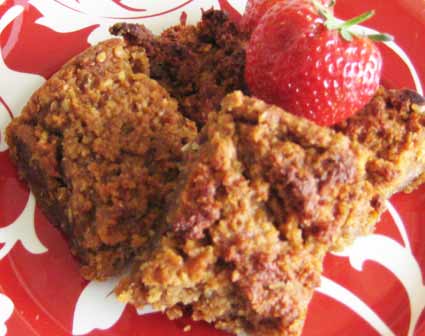 Ingredients

1 cup of soft dried fruit – cranberries,
blueberries, dates and apricots work well
half a cup of dried coconut
2 cups of fine ground almonds
½ teaspoon of bicarbonate of soda
a large egg
I tablespoon of pineapple or other fruit juice
A tiny sprinkle of salt if desired

Method
For the fruit, you can buy soft apricots and dates, but choose unsulphured and no added oil unless you know what it is. I use the cranberries and raisins from HBS Foods that I have confirmed are truly gluten free – or Sainsbury's organic soft apricots.
If the fruit needs softening, soak in some warm water overnight or at least for an hour or so. If you have forgotten, it's no biggie; they are just nicer and easier to make like this.
Process the fruit and coconut together, then blend in the almond flour until you have a crumbly doughy mixture.
Next add in the egg, juice, bicarb and salt if using and process again.
If you don't have a processer, this will still work, of course, but you will have to chop the fruit up into pieces and use a bit of elbow grease and a wooden spoon.
The batter should be nice and thick. If it is too runny, just add a little more almond flour. If too thick, a little more juice.
Oil a baking tray or dish (one with quite high sides – like a swiss roll tin).
Use your hands to press the mixture into the tin and level it out.
Lovely sticky job! Don't worry if you haven't made enough to fill the tray, just fill some of it; this doesn't have to be pretty.
Bake in a lowish oven – about gas mark 4, 350F/180C – for 20-25 minutes until it is browning on the top and feels firm.
Take out of the oven and leave to cool for an hour in the pan.
Finally, cut into slices and enjoy one with your cuppa. I often have one or two as breakfast with soya yogurt and fresh berries.
They will keep quite nicely in a tin or the fridge for about 5-7 days, if they last that long.
I haven't tried freezing them yet, but can't see why not. Enjoy.
We have over 800 delicious freefrom recipes on this site all of which are gluten free, most of which are dairy and lactose free and many of which are free of most other allergens. Please go to the following sections to try them out: