Marmalade Polenta Cake
Gluten, lactose, milk, nightshade, nut, peanut, sesame, soya & wheat free
Serves 12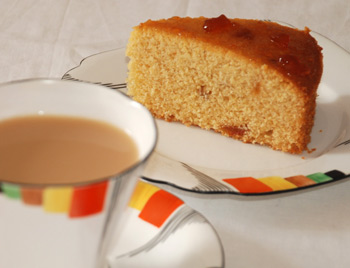 Ingredients
175g dairy free spread
150g caster sugar
2 tbsp agave nectar
2 eggs, beaten
5 tbsp good quality marmalade
200g gluten free self-raising flour
150g cornmeal
1½ tsp gluten free baking powder
150ml dairy free milk (I used rice milk)
Topping
3 tbsp marmalade
1 tbsp agave nectar
1 tbsp water
Method
Preheat the oven to 180°C, gas mark 4.
Grease a 23cm round tin and line the base with baking paper.
Beat the dairy free spread and sugar together until light and creamy.
Beat in the eggs one at a time.
Stir in the marmalade.
If the marmalade is quite solid you can melt it a little in the microwave or over a low heat in a saucepan to make it easier to stir in.
Stir in the flour, cornmeal and baking powder.
Pour into the tin andsmooth the surface with the back of a spoon.
Cook for 50 minutes until lightly browned.
Check it is cooked with a skewer that comes out clean. If it is not completely cooked, give it another 5 minutes.
Remove the cake from the tin and place on a wire rack.
To make the topping heat the marmalade a little either in a bowl placed in hot water or in the microwave on a medium heat for a few seconds.
Mix the marmalade with the agave and water and spoon over the warm cake so that it soaks in.
We have over 800 delicious freefrom recipes on this site all of which are gluten free, most of which are dairy and lactose free and many of which are free of most other allergens. Please go to the following sections to try them out: